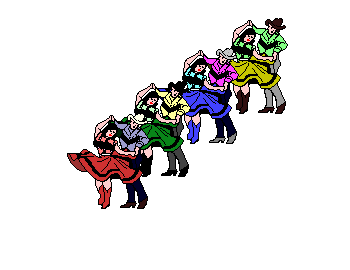 The Scandinavians start arriving now. Tonight we had the first group of Norwegian people visiting us at Lewinski.
The night was lovely and we are so happy to have them back again.
The most of the Scandinavians leave the island in the time of Easter and then they don't come back before in October.
The real big Scandinavian boom is after Christmas when they some nights can be over 50% of the total audience.
Line dancing is also popular in the Northern countries and in the end of this month a group of 25 line dancers from Denmark are coming to Tenerife.
Sweden has today over 250 line dance clubs and you find many clubs in Norway and Denmark too, and even some in Finland.
Some people have been wondering if they would bring their country wear down to Tenerife or not. Just feel free to do whatever!
In our place it's alright to be dressed up in boots and hats if you like.
Clas and I are always dressed in this style and sometimes the guests too.
We like to see people in cowboy hats when that fits so well to the whole image of our show, but you don't have to use the country dress code to come and see us.
Many of our songs fit both the line dancers and the other dancers.
Don't hesitate to get up on the dance floor only because the other dance style is there first!
In our place we can have many different styles going on in the same time and when the floor gets really crowded we try to split it up in two different sections.
One for the line dancers and the other one for the couple dancers to avoid unnecessary collisions.
It also happens that the line dancers are doing different dances to the same song.
Be free to choose the dance you want!
One night last winter we had five different dances going on in the same time.
The most important in our place is that everybody get to dance!